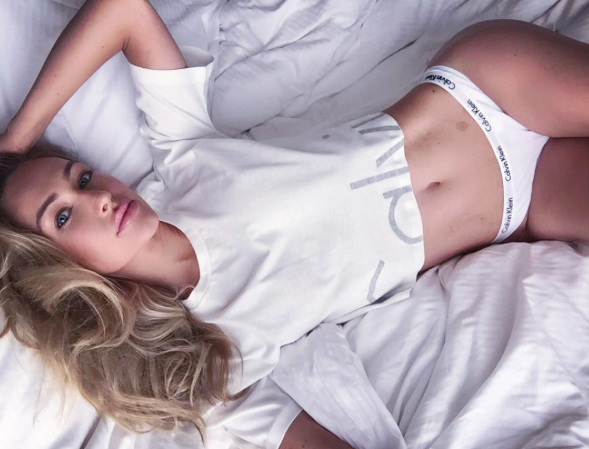 While many of us jump on the fitness bandwagon in January, it can be difficult to get motivated. I'm not one for New Years Resolutions but I really do want to find a way to stay motivated in 2016. I find the best motivation is following inspiring Instagram accounts. Not only will you receive daily reminders to stay on track but you'll also learn so much from how to target a certain area or what to put in the that morning juice. To educate and motivate myself and you guys, I got in touch with my favourite gym bunnies to follow and asked them to share their top tips. I hope they motivate you as much as they've motivated me.
This fashionable model's physique is to die for! Be sure to follow her for her workout videos - my favourites are her 'Butt Blasters'! 
1. What inspired you to start working out regularly? 
As a child I was always very active.  I attended and competed in Irish dance classes almost everyday of the week.  When I came to University I stopped all exercise, I gained a little weight but mainly I just felt tired all the time and really unhealthy.  I started out by doing short home workouts and runs outside, then I joined a local gym. I took it in baby steps, and now I can't stop!
2.You're quite the jet-setter, what are your top tips to eating clean on the go?
If I'm going on holiday then anything goes, you can't restrict yourself all the time - it's a lifestyle, and you should always enjoy yourself.  If I'm traveling for work then I usually pack a few snacks, some fruit and nuts. I'll bring a packet of oats with me for my breakfast. Nowadays, I really think you will always be able to find a good option on the go. When I'm at the airport early in the morning, I'll always have boiled eggs on toast.

3. You've some great recipes on your website, what are the super foods you ensure you have in your diet?
My favourite meal of the day is breakfast. I have to have a delicious breakfast and I make sure I sit down and enjoy it. Breakfast puts me in a good mood and sets your energy levels for the day. Oats, eggs, avocado, rye bread are a few of my favourites. I also make sure I have a lot of fresh veg and fish. Fish tacos would be my go to dinner, any kind of homemade Mexican is delicious.
4. Your abs are enviable, what would be your top tip on training abs?
To be honest I hate training abs. I do one of my at home workouts which are on my IG
@maeve_madden
about twice a week. The abs are such a small muscle though, a lot of people don't realise that when you are working out your other parts of the body you are always training the abs as well. My top tip on ab training is to add weight using a medicine ball or ankle weights.
5. I love your butt blaster videos, what exercises would you recommend for growing gluten?
Hip thrusters and Dead lifts are two of my favourite moves. I always use weights when working my glutes.  I got these great ankle weights from Nike so If I'm doing an at home workout I use those.  If I'm at the gym I'll use a bar with weights on it. I now dead lift around 36kg.
Vogue Williams @VogueWilliams
Vogue is the epitome of strong, fit and sexy! Follow her for workout videos and those enviably toned limbs.
1. Tell us a little bit about your workout regime?
I try to work out between 5-6 times a week for about 40 minutes each time. I fit it in whenever I can but prefer training in the morning.
2. Working out seems to be a big part of your lifestyle, did you always enjoy the gym or what motivated you to start working out?
I do like working out, I like the feeling you get after and for me it is really good for any stress or anxiety.
3. Do you always train by yourself or with a personal trainer?
I prefer to train with someone else. I do have a trainer when I can but I also do a lot of classes or train with friends.
4. What's your everyday diet like?
It's quite good during the week but I relax a bit on the weekend. I would have eggs and brown toast for breakfast, a wrap or salad for lunch and then steak and veg or a stir fry for dinner. I have snacks in between of hummus and oatcakes, fruit or nuts.
5. Are you a cardio or weights girl?
I'm a weights girl, I don't think you see results with just cardio. It's better to do weights with sprints or burpees as cardio.
6. What is your favourite exercise?
I love squats because you get the best results or lunges, anything that gives you a good bum is good with me!
This popular model has an incredibly lean and strong physique. Be sure to follow her to remind you to keep going!
 1. Tell us a little bit about your workout regime?
I prefer to train in the mornings as this is usually the only time I have. Also, you're there and training before you even realise what is going on! I pack my bag the night before and have my gym gear at the end of my bed so I just fall into the gym then start my day from there.
2. Do you always train by yourself, with a personal trainer or do you take classes?
I have had trainers in the past but not in about two years or so. I usually train by myself. I dont really like going to the gym with friends as I can find it to be very distracting. I like to get in and get out. I am not there to chat. I am there to train. I do some classes also, my favs being Boxing with Steve Dawson at Beau Jacks just off Camden Street and Reformer Pilaties at Form School. I usually do both of these twice a week.
3. Do you follow a strict meal plan?
I try to be really good during the week and have whatever I have been craving on the weekend. Although to be honest I do prefer healthy, clean food. I try not to keep processed food or sweets in my house. My meal plans usually consist of fish and veggies or chicken, eggs and salads. I love fruit too, pineapple and mango are my favourites. I like sweet potato too. In saying that, I can not go a day without chocolate so I always make sure I have dark chocolate in my fridge.
4. Are you a cardio or weights girl?
Oh god, weights all day long. I dont enjoy cardio and would never do something that I dont enjoy. I usually begin every training session with around 10 minutes of skipping to get my heart rate up. This I actually enjoy but that is as far as my cardio goes. I don't lift heavy weight. I lift very small weight, 4/5kg with a high volume of reps. However, most of the time I do a lot of bodyweight training or I use resistience bands.
5.  Your abs looks amazing - What would be your top tip on training abs? 
Ha ha, on a good day - but thank you! I usually train abs every day. Actually, to be very honest the key to abs is diet. Everybody has abs, some people just carry a little more fat in that area than others. My fav way to train abs are:
Rocking planks (Basic plank position but you rock back and forward), weighted side planks, leg raises, crunches with with legs raised holding a 6/8kg weight, weighted side bends.
Sene is a Irish Rugby player and personal trainer who has created her very own fitness class. Follow to get a preview of her popular Senshaper classes. 
1. What can we expect from attending one of your Senshaper™ Series 3.1 classes?
Our sports-inspired Senshaper™ Series 3.1 classes are structured as a 3-point system, using three different training methods in just 48 minutes. The first part of the class, Senshaper™ Tone (20 mins), sculpts your body lean and increases strength endurance using high-rep, low weight, tempo controlled compound exercises. Senshaper™ Plyo (12 mins) increases power and speed using full body, athletic, plyometric movements. The final part of the class, Senshaper™ Extreme (16mins), optimises the fat burn with a finisher spin or sprints to the extreme. All three training methods are carefully choreographed to powerful, uplifting and motivating music. You can expect a lot sweat and a dose of DOMS – but don't let that stop you from giving it a go!
2. Do you do cardio and weights?
Absolutely. In fact when I coach my private clients, I find the combination of the two as well as breathing or zone exercises increases their performance progress and results.
3. You have an amazing lean yet strong physique, what would be your top tips for achieving this?
- Fuel your training and lifestyle by eating right for your metabolic type and limit your intake of starch or high G.I. foods.
- Mix up any short and sharp HIIT workouts you enjoy with aerobic based training methods like running. Or take up a sport you love!
- To increase lean muscle mass and strengthen your core, do compound resistance exercises over isolated exercises.
4. What's your top tips for staying motivated and making time for working out?
Write down why you want to train and what it is you want to achieve - it'll help fuel your motvation when you get lazy. Find a training buddy and keep each other accountable, the process of motivating another person can increase your own individual motivation. And lastly, train early morning if you can! Decide on which 2-3 days a week you'll train for at least 30 mins and what times, then stick to it! Research papers have indicated evidence that training first thing in the morning can increase fat burn and you'll be less likely to overthink excuses to get it done.
Yoga instructor and foodie, Molly's account will motivate in the most positive way. 
1. What motivated you to start yoga / working out?
I'll tell you the truth and say that when I started yoga it was for weight reasons. I had heard so much about yoga being amazing for 'toning' and what girl isn't obsessed with the idea of being toned!? So I started and within a few sessions I was feeling so many of the endless benefits. I was hooked! Weight lifting started in a similar capacity and similarly ended up being not so much for physical but mental health benefits!
2. Your food pictures on Instagram always look amazing, what are your favourite clean dishes?
My favourite clean dish would have to be chicken fajitas (leave out the wrap!) with avocado. I simply fry chicken, red pepper and onion with lime juice, paprika and cayenne pepper. Nothing better!
3.  I love your Instagram because you always look so happy and positive! Do you think your healthy diet and exercise lifestyle attributes to this most?
Definitely. I notice when my diet is more balanced and I stay away from binging my mood becomes equally as balanced - avoiding those infamous highs and lows that result from high-sugar foods. Training and generally feeling healthier results in being more energetic and happier, without question. I think yoga also, whether you practice for one reason or another, without fail has you feeling positive. The breathing, the meditation, the quietness, the community - together have given me a new lease of life and helps me each to reconnect with that happiness that already exists within me.
4. Any secret tips? 
Being healthy looks great and Instagram can make it look so easy. But it's hard. So why make it harder for yourself by forcing it? Find what works for YOU. It's good to have goals, but make sure these are body goals that YOU aspire to and never compare with others.
Madeline may be petite but she is certainly strong! Follow her for weight training and Proformer Pilates workout videos. 
1. Tell us a little bit about your workout regime? 
This year I'm planning on building a lot more muscle so I've upped my workouts from 3 days of a week to 5.  The time in the day that workout though always depends on what my schedule is like. If I'm busy I usually have a gym bag ready to go to squeeze the workout in.
2. Do you always train by yourself, with a personal trainer  or do you do any classes?
I like to mix it up as much as I can. I workout at home and I have a trainer at RAW that keeps me seriously motivated. I also go to Pilates Plus Dublin for Proformer Pilates classes. I've been going nearly 2 years now, it is such a tough class yet you feel incredibly relaxed after it.
3. Do you follow a strict meal plan?
I wasn't following any meal plan before this year but now that I'm planning on bulking up I've started a serious protein packed meal plan that includes 5 meals, 2 snacks a day and lots of shakes so that's going to take a while to get used to.
4. Are you a cardio or weights girl?
Weights all the way. I have quite a fast metabolism so I'm trying to keep as much weight on me as I can and the only way to build muscle is weights!
Until next time,
N
X