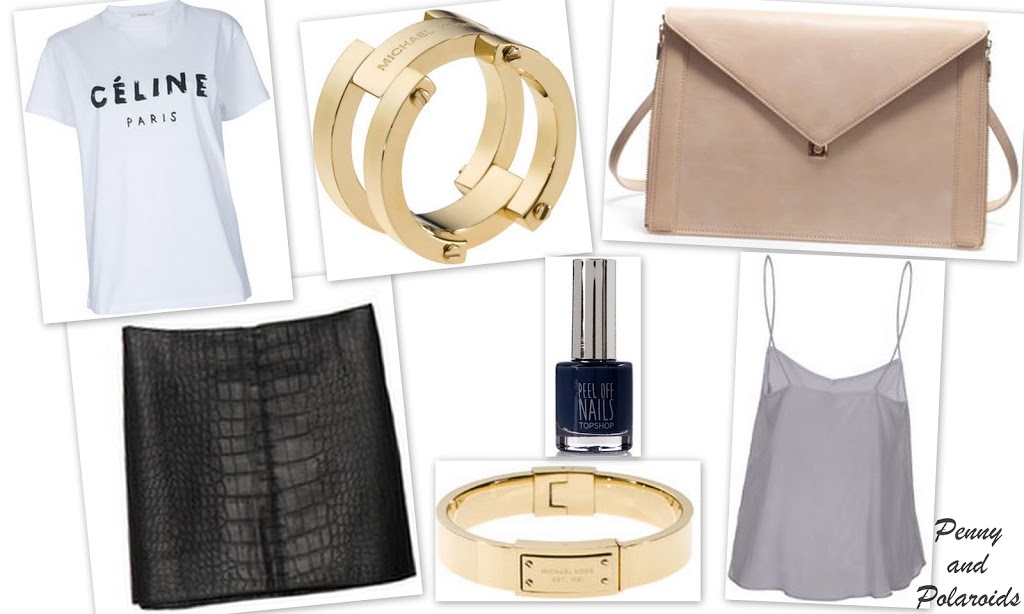 Céline Logo Tshirt // Michael Kors Ring // Zara Nude Clutch // Topshop Boutique Silk Cami //
Topshop Peel Off Nail Polish // Michael Kors Bangle // Alexander Wang Leather Skirt
So I may be a little late to be lusting after a Céline Logo tee, as you may know these type of logo tshirts were everywhere in the past couple of months, especially loved by bloggers and Rhianna. White Tshirts are one of my favourite items and this logo tee is very like my style but I wasn't interested in them as everyone else was wearing them. I think it's a very cool, simple item so I gave into temptation and have ordered one.. if only I could afford to team it with this Alexander Wang snakeskin leather mini skirt. I just love this skirt. I have been searching for a black leather miniskirt for awhile now but sadly to no avail (I'm fussy, I want it plain and great quality).
This Michael Kors ring is my newest WANT item. I absolutely adore it. I have been looking out for a statement/cocktail gold ring (and one that won't turn my finger green) for quite awhile and just adore this one. The bangle is also a similar style piece from MK's latest collection. I love these chunky gold pieces and with items like these you really do pay for great quality, they are worth the money. Only I want loads of them to wear all at the same time.. then it gets pricey.
If you have never felt anything silk from Topshop Boutique you may think their items are overpriced but let me assure you, their silk pieces are beautiful. I love this simple little cami, a top like this is so easy to wear. Also, how cool is Topshop's peel off nail varnish! I love this midnight blue colour. I always seem to choose nude coloured items but I really do like the nude shade of this Zara bag. It would be perfect with so many outfits, and go from day time to night by tucking in the long strap and using it as a clutch. Versatility is always something great to look out for in a bag, this one can be casual and dressy, a clutch or a long strapped bag.
Also, here are two items I have been lusting after for the past couple of weeks and recently purchased on a Topshop shopping spree.. I can't wait to wear them! I love the crochet openings in the waist of the dress and the sixites style to it.
Latest Purchases: Lace Open Waist Shift Dress & Nude Platforms, Topshop
nuala
..X