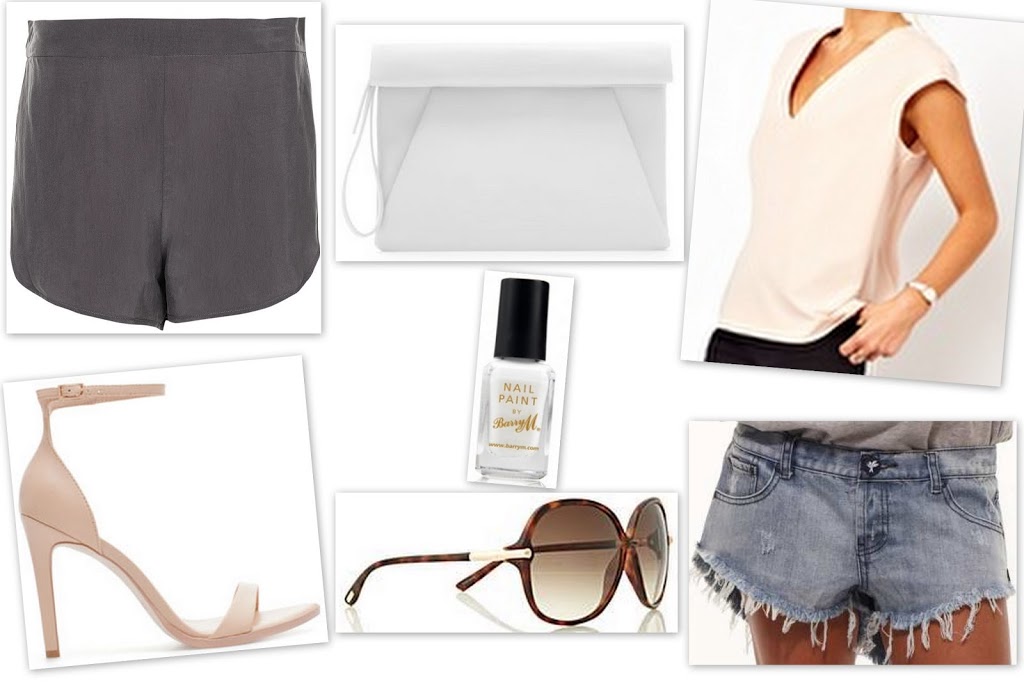 Cupro shorts, Topshop // White nail paint, Barry M // Tshirt, Asos // Denim Cut Off's,
One Teaspoon //
Sunglasses, Tom Ford // Sandals, Zara
Blush neutrals, short shorts and some bright white, here is what I am wishing for this Month. White is huge this Summer, and as it's my favourite colour for clothing and have so much of it, I am lusting after white accessories this season. This oversized clutch from Zara is the perfect SS'13 accessory. I also love this white nail paint from my favourite range, Barry M. I have been wearing a beige colour by Barry M's 'Gelly' range for the past few weeks and I now want to try out this crisp white shade which is perfect for Sunny days.
I am a huge fan of neutral shades and I especially love nude heels, these sandals from Zara are perfect for Summer. I love this style which is huge this season but I especially love how these are slightly higher than most others. This blush top from Asos is also a perfect piece, the basic yet structured style and colour makes it a great staple piece. I know I would wear it loads. Chanel has always been favourite brand for sunglasses but I have also recently been loving styles by Tom Ford. Tom Ford is an amazing brand and their sunglasses do not disappoint.
Shorts are my favourite item to wear, they're so comfortable and so easily styled. I adore these sports luxe Cupro shorts from Topshop. They sit really high and this slate colour is perfect, I would style them with these nude sandals and the Asos tshirt. They are first on my list for payday! Demim shorts are also a wardrobe must have. When it comes to shorts I always opt for a slightly bigger size, there is nothing worse than really tight and really short shorts. Choose carefully and shorts can be very flattering and stylish. One teaspoon is a newly discovered favourite brand of mine and I absolutely adore their shorts. My favourite are slightly loose and frayed in a pale denim. Check out their full range
here.