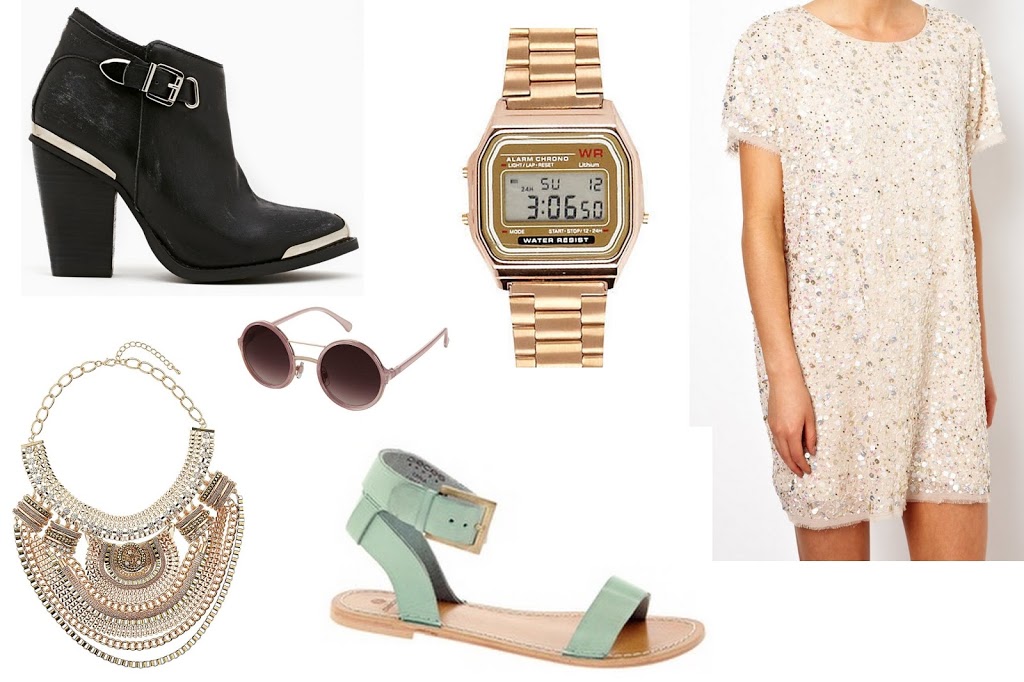 Western Boots, Nasty Gal (
here)
// Digital Watch, River Island (
here
) // Lucy Tempest
Dress, ASOS (
here
) // Pieces Mint Sandals, ASOS (
here
) // Round Brow Bar Sunglasses,
Topshop (
here
) // Drape Collar, Topshop (
here
)
My wishlists are becoming harder to narrow down to just a few pieces.. I want way too much! I love this time of year when the Autumn-Winter stock is just starting to be released. Don't get me wrong, I love Summer and how lately, in the midst of a heat wave, I can wear my adored cut off's and sandals and Crochet dresses, but I always love Autumn and the arrival AW collections. There are so many AW pieces I want but for now I am still lusting after some Summer pieces as it is a July Wishlist afterall. But, having said that, I love my boots and have been searching with eager anticipation for some black western style boots for this Autumn. I fell madly in love lust with a gorgeous pair of black western, low heel ankle boots with metal cut-out toe detail. They were amazing, and sadly they will only be a wish for me as they are from a collaborative collection by Pamela Love for Nine West.. in 2012! And so my search resumed (it's a very serious matter) and I found the above ones on Nasty Gal, I love the silver detail.
I have wanted a Casio digital watch for years but never got around to get one and it always went out of my head again. I love my Michael Kors and Fossil watches which are gold and rose gold boyfriend style watches but I like how the Casio style ones are very different and not many people have them. I found this Casio style version from River Island, it's a perfect size too.
How beautiful is this Lucy Tempest for Asos Dress? I adore tshirt dresses, I know they aren't very flattering or anything but I love that style and am so comfortable in this style. I also love sequins but am so fussy, there is a fine line between tacky and elegant when it comes to sequins and these are perfect. This one is actually sold out at the moment but the link above will link you to a beautiful navy version which has just been released. Navy sequins are perfect for AW'13.
These mint green sandals by Pieces are so beautiful, I really love them. I really wanted a pair of this style, really simple with a thick strap across the toes and a thick ankle strap and love this retro colour. They're so cute. I love the selection of round sunglasses Topshop has this season and really like the brow bar detail and these particular ones. Also from Topshop, this huge drape collar necklace is definitely a wishlist must-have. I'd wear it over a white tshirt and black jeans for day time and update my LBD's with it for nights out.
nuala
..X