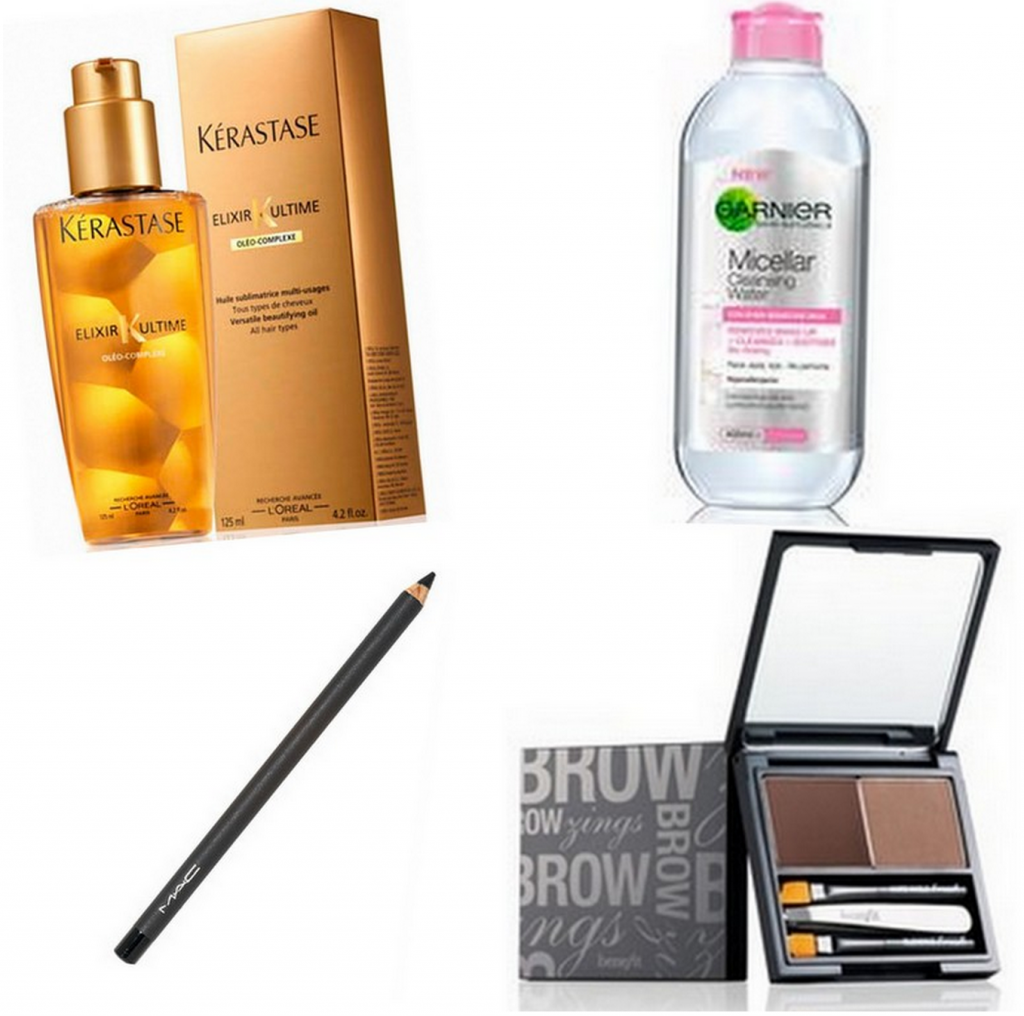 Click on the icons below to Shop My Favourites..
One question I get asked a lot, both online and in person, is what I use on my eyebrows. I've only ever used Benefit's Brow Zings kit and really love it. It's a compact kit which contains two brushes, tweezers, a brow wax and shade powder which are used together to allow you to create the perfect shape. I honestly think this is a wonder tool for creating structured eyebrows and I love how you can make them look as subtly or as dramatic as you like. Brow Zings is one of my must-have products and I strongly recommend it. It retails at €34 in Brown Thomas but it's a little less on the site I've linked above. It really is worth the price as it will last a long time. I've had my one for over a year and there's still a lot left.
Earlier this month I shared a picture on Facebook and stated that I had purchased Micellar Cleansing Waster by Garnier. Micellar water has become a cult product since top makeup artists have revealed they rely on Micellar water by Bioderma it for their models between shows at fashion week. Micellar water is composed of molecules called surfactants which allow oil and water molecules to combine together without separating. Hence, Micellar water is essentially an oil cleanser and water. Just as the molecules make oil soluble in water, they also make makeup soluble and dissolve it from your face leaving your skin squeaky clean. It is however important to remember than Micellar water is a quick-fix cleanser and while they are perfect replacements to face wipes (which are terrible for your skin), it probably isn't the best idea to use it to replace your everyday cleanser. I use it along with my cleanser for a really thorough double cleanse and I really like, my skin also feel really hydrated after it. There are various brands of Micellar water around but Garnier is certainly the cheapest and it does work well.
While Micellar water is a very new favourite of mine, Mac Eye Kohl in Teddy has been one of my favourite products for about six years so I had to feature it. It's a very soft kohl in a chocolate brown with a hint of shimmer. I use this all the time and rarely use black eyeliner. It's around €17 and lasts for ages. I think it also looks great for daytime as it's less severe than black eyeliner.
Lastly, I always use Kerastase Elixir Ultime oil after washing my hair and really love it. It is however quite pricey so the last time I ran out I tried a couple of different inexpensive oils from Boots but nothing compared to Kerastase and so I quickly returned to using Elixir Ultime and won't go without it again. I really nourishes my hair and has certainly improved the condition of the ends of my hair. I buy mine in Barry's Hair Studio in Galway but it is slightly cheaper online.
Until next time,
nuala
..X