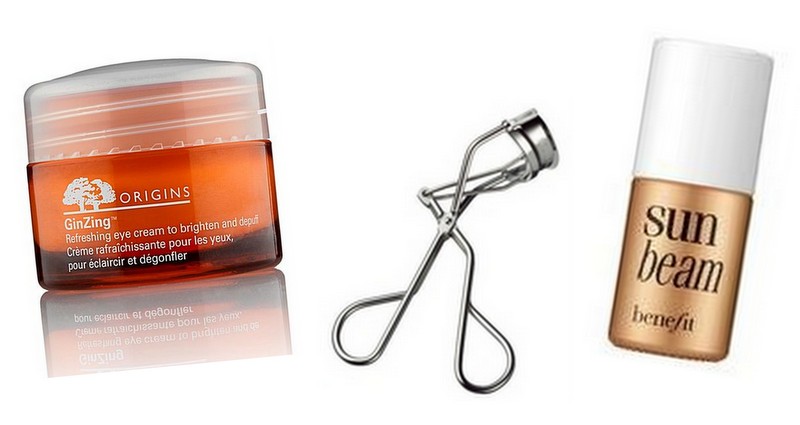 All products are available online and in-store from House of Fraser or you can click scroll through and click on the icons below to purchase

This month I'm focusing on three items in my makeup bag that I could not go without; a great eye cream, eyelash curlers and a highlighter. I have used Benefit Sun Beam highlighter for a couple of years now and love it, I've gotten so many of my friends using it! It has a golden sheen which I love but there is also a similar pink toned one called High Beam for paler complexions. It looks amazing on, especially in summer or with fake tan. I apply it to my cheekbones only and I'm always very careful to keep it from smudging with my bronzer as it doesn't blend well with powdered products and I never put powder over it.
I'm obsessed with eyelash curlers and always use them. I have really straight lashes and when curled they actually look so long so I always curl them before using mascara. I've had a good few through the years but splashed out on the infamous Shu Uemura curlers last year and did not regret it. They always win beauty awards for being the best there is and I certainly agree. There is also a trick to get a really good and lasting curl to your eyelashes which is heating the curlers with a hair dryer beforehand. I have tried this just to see and it does work but I would not recommend it, your eyelashes are already so fine and delicate I wouldn't advise risking heat damage.
A few months back I did a bit of research looking for the perfect eye cream for puffy, tired eyes and dark circles. I found GinZing by Origins had won an award for the Best Eye Cream by In Style Magazine's Beauty Awards. I know I'm always going on about beauty awards but I really swear by  In Style's awards, my sister and I always make sure we get that issue every year. Within a few weeks my eyes were rarely puffy and so much brighter. It has quickly become one of my favourite products and I never go without it. It honestly has made such a difference, I really love it. I order mine online from House of Fraser, the first time it even came with a free gift!
Until next time,
nuala
..X