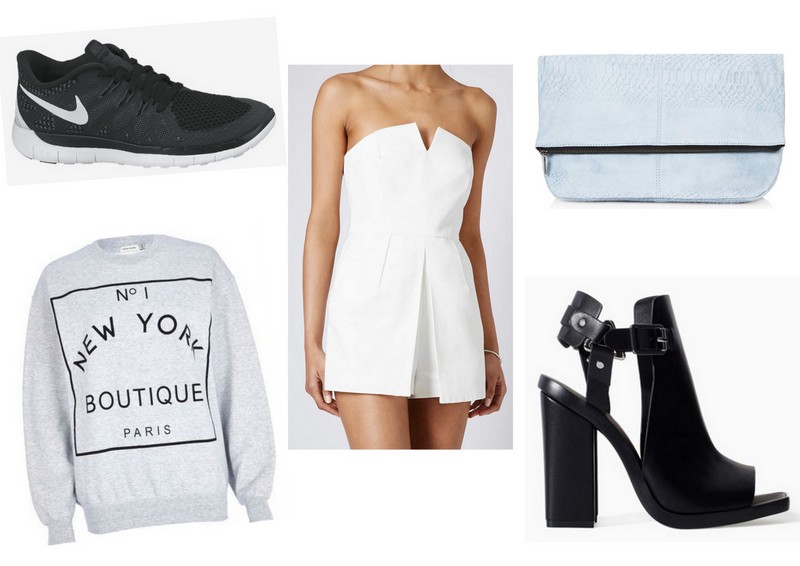 Click on the icons below to Shop My Wishlist..




There are so many Nike trainers I'm lusting after at the moment but I really love these simple black 5.0′s, they're very chic and I would definitely wear them outside of the gym. Keeping with sports luxe, I have a penchant for crew neck grey sweaters! I love this one from River Island, its similar to my black one from there (see it here) but I still want it. River Island have a lot of really cool slogan/graphic sweaters and tshirts in at the moment.
I spotted this Topshop playsuit while in Chicago and loved it so much. The prices there are really hiked up as it is a European brand and I was in such a rush at the time I decided to wait until I got home to get it and it's been on my wishlist since.  As it is very short I really wanted to try it rather than ordering it online so I was so happy to find it in Topshop in Dublin during the week, I can't wait to wear it now. I'm also lusting after this powder blue clutch, also from Topshop. I have this style in another colour and really like the size and shape.
Lastly, these Zara heels are most certainly on my list! I love the style of mules and initially really wanted a pair but I love how these are a bit different. They're very similar to a mule style but edgier, I love the harness style detailing. They're not in the above feature but you can shop them here.
Until next time,
nuala
..X