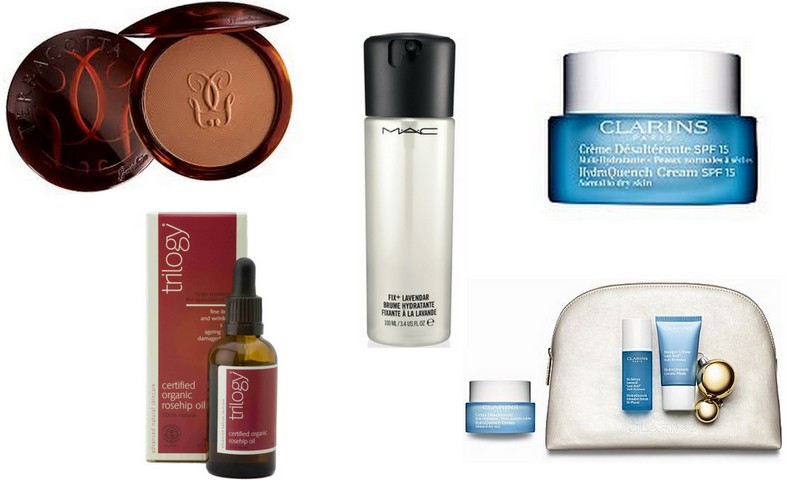 Shop My Beauty Favourites by Clicking the Icons Below..


As you may know, in early January I began a new feature which includes my monthly beauty favourites. As the feature is still very new I'm excited to have so many of my beauty favourites to write about. This month I'm focusing on my winter skin saviours and my must-haves for skincare.
You may remember I featured Trilogy's Rosehip Oil on my January Wishlist and I purchased it shortly afterwards. I had heard so many great things about it. To be honest this happens a lot for me; I hear of these 'amazing' products and when I try them out, I'm quite often a little disappointed. But, Rosehip Oil did not disappoint! I actually can't believe how much of a difference it has made to my skin. It's nourishing, hydrating and it really does make improve the texture of your skin. It's full of antioxidants and skin nutrients. It also delays the effects of aging by assisting with cell regeneration and promoting your skins collagen and elastin levels, leaving the skin firmer and smoother. There are of course various brands of Rosehip Oil but I have heard that Trilogy is by far the best. Having said that, I have not tried any other brands for myself. I smooth it over my face and neck at night after cleansing, as it's both hydrating and full of antioxidants it really is perfect for your skin after wearing makeup all day. I have been using it for about six weeks and I can honestly say my skin feels and looks much better. 
I also attribute the improved appearance of my skin to my new favourite moisturiser, Clarins HydraQuench cream. I started using this around Christmas time and it is the first moisturiser I have really felt worked for my skin. It's both hydrating and moisturising yet not too greasy so it's perfect for daily use under foundation. I purchased it from Borwn Thomas and treated myself to the gift set which I have also shared above. It contains a serum and a hydrating mask for only slightly more expensive than the cream alone so I would definitely recommend purchasing the gift set. It's now sold out in Brown Thomas but I was able to find the gift online and have linked it above. The pretty, pearlised bag is now my new make up bag (although white is not the most practical colour for a makeup bag!) It also has SPF which is essential for me, even in the winter months there are still UV rays which damage your skin. 
Aside from skincare, my two makeup favourites this month are Guerlain bronzer and Mac Fix-it spray. Fix-it isn't actually makeup but it is designed to keep your make up in place and freshen it up throughout the day while giving a dewy and refreshed look. I love for my makeup to look quite dewy but find it sometimes tends to slide off my t-zone throughout the day, so this has become my new best friend and it does work. Guerlain Terracotta bronzer is another cult product that has won an abundance of awards and received amazing reviews, and it's no wonder. I used to use Benefit Hoola (which is also a fantastic bronzer) but I don't think I'll be changing from Guerlain anytime soon, I love it!


Until next time,
nuala
..X