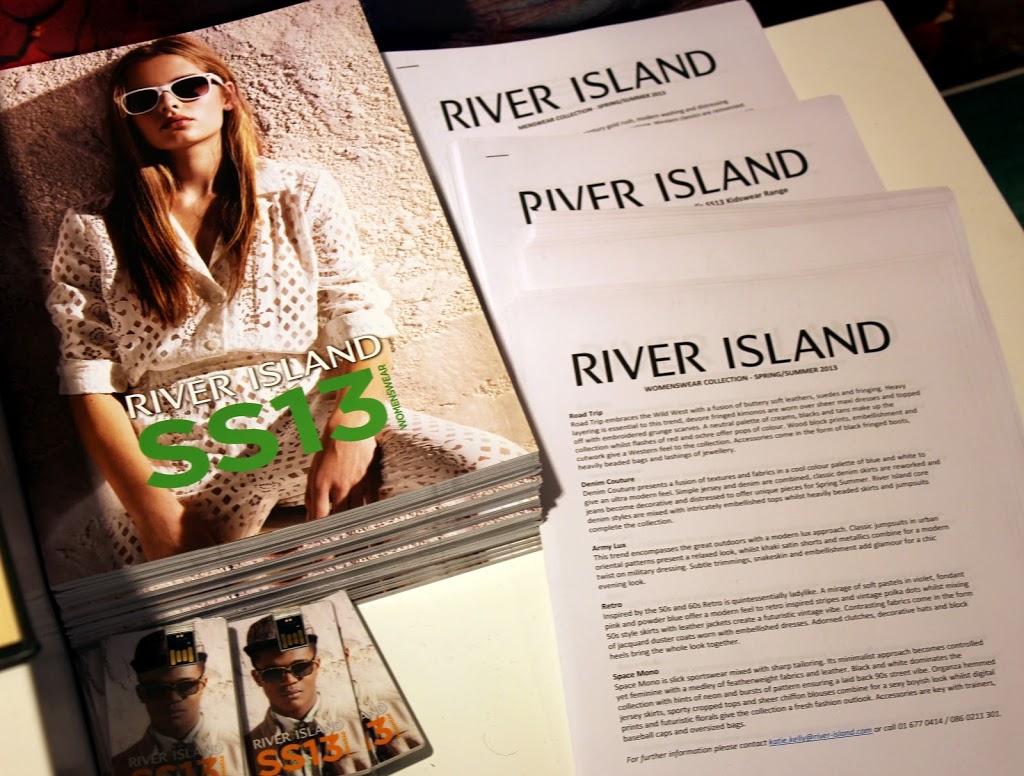 Last week I recieved an exciting email from River Island's PR team inviting me to their SS'13 Press Day in Dublin. It was very exciting to view some amazing pieces from their collection prior to their release, akin to the collection, the event itself did not dissappoint. I wasn't sure what to expect as this was my first press event but the atmosphere was really great and everyone had a lot of fun. Along with media and fellow bloggers there was plenty of banter, playing dress up and making silly videos for a 'flickerbook'.
River Island's Spring Summer '13 Road Trip collection presents a neutral soft palette of creams and whites, delicate lace, soft leathers and suedes. A bohemian trend which epitomises summer fun. Fringing, embroidered suede, prints and lashings of jewellery make this collection your go to for festival wear. Look out for fringed boots and heavily beaded bags. With a very rustic feel, some of the pieces embody wood block prints and western cutwork, perfect for high summer laid back, bohemian style. The colour palette is creams with fusions of red and ochre, for a further folky feel. Cuban heeled boots still persevere through to this season but in River Island even they get a seasonal lift with sling-back/open heel styles. AW'12 accessories came in varying shades of gold but this Spring silver is dominating and AW'12 styles are reworked in colour.
This March awaits the launch of Rihanna's exclusive collection for River Island. But until then RI's Denim Couture collection is very Rihanna-esque. Denim gets heavily embellished this Spring with pieces reworked with studs, spikes, distressing and lace overlays. Keep a look out for some classic denim skirts and decorative jeans. The embellished pieces do not stop with the jeans, embellished jerseys, jumpers, skirts and jumpsuits are all to be released. Dungarees are also coming in, I love the idea of this, they have a high summer, retro-cool aesthetic to them. Accessories within this collection are of course big.
The much loved sport luxe trend of 2012 has been given a more modern feel this Spring with the style embracing further outdoors with urban and oriental influences. Khaki satin, snakeskin and shiny metallics are key pieces to this glamour chic. There will be many modern basic pieces but with subtle trimmings. Gladiator sandals are huge this season, including gladiator brogue style sandals.
I love some the pieces from the Retro trend, especially the candy stripe pale pink bralette and 50′s inspired dress. I'm immediately imagining myself in the outfit, as an impeccably poised 1950′s lady drinking lemonade in the sun! I think a dress like this one is one you will either love or hate, and if you love it you will keep it forever. I don't normally like anything 'pretty' but the retro feel gives it a whole new aesthetic. Perfect for Spring, the Retro collection is awash with soft pastels of the palest pink and powder blue, and fabrics of bold stripes and polka dots. To complete this look team 50′s style skirts with vintage inspired yet modern leather jackets. Look out for the jade green leather jacket, yet another item that you'd keep forever. Contrasting fabrics has also persevered from preceding seasons. Block heels and clutches are also key pieces to complete this look.
Similar to SS'12 sports luxe, and the Army Lux collection, Space Mono contains some slick sportswear, but with sharp tailoring. Minimalistic is key for this trend with monochrome dominating the colour scheme. Yet expect bursts of bright leather. I love the 90′s street style inspired pieces. Sporty cropped tops are still on trend this season as are digital prints, futuristic florals. Contrasting black and whites is also reflected in the fabrics with intricately laced and sequined whites and heavy blacks. Complete the look with baseball caps, trainers and an oversized bag.
This season River Island has a lot to offer, incorporating many of the top trends from London Fashion Week. Detailing is key with prints, patterns, summer tweeds and intricate laser cuttings. Laser cut pieces are a big trend with laser cut whites and leather jackets, the laser cutting gives them a cool Summer feel. AW'12′s heavy Winter Bouclé has also had a seasonal makeover and has emerged once again with fine, intricately detailed textures. Matching bralettes and pencil skirts are also huge and are of course more apt and easy to wear for the Spring Summer collection. I love the differing inspirations from styles reminiscent of Fresh Prince of Bel Air to seemingly Edie Segwick inspired sixties mod. I love the Sedgwick-like chandelier earrings and monochrome leather shift dress. If you're on a budget and looking to update your wardrobe this season opt for a pair of gladiators and some pieces from their body jewellery selection.
Also check out these snaps of my River Island 'Flickerbook', the PR girls had someone in to film us for seven seconds and within ten minutes our little video was binded in this cartoon book. It was a great little keepsake and it was a great way to add to the atmosphere of the event.