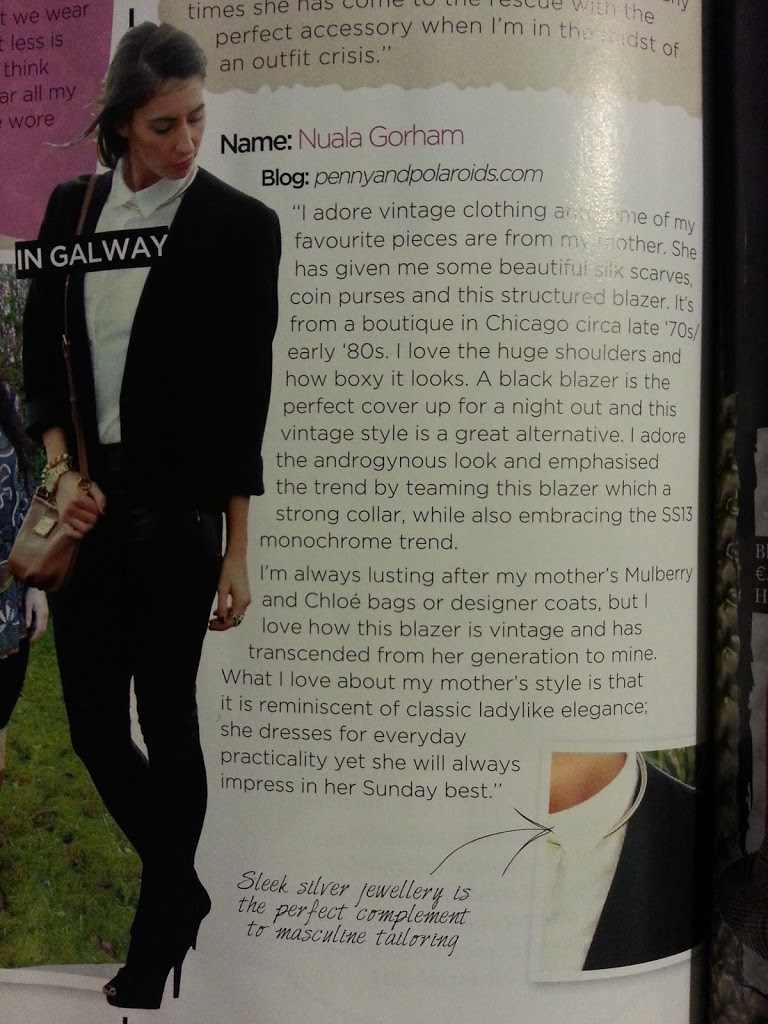 The piece I wrote
Last month I received a very exciting email from the lovely ladies at Xposé Magazine asking me to feature in their March issue. I love the magazine and especially love the feature in question 'How We Wear It' which is based on a different theme each month. It being March, and with Mother's Day soon approaching, I was asked to style an outfit featuring a beloved item from my Mother's wardrobe. I was so excited to partake in this particular piece as I adore so many of my mother's pieces, both modern and vintage, but opted for a a vintage piece for the outfit. I am very grateful for the opportunity to feature in such an amazing magazine, and had a lot of fun playing dress up in my mother's wardrobe once again! Here is the piece I wrote:
I adore vintage clothing and some of my favourite pieces are from my mother, she has given me some beautiful silk scarves, coin purses and a vintage trunk where I store all my bags in, and this structured blazer. It's from a boutique in Chicago circa late 70's/early 80's. I love the huge shoulders and how 'boxy' it looks.

A black blazer is the perfect cover up for a night out and this vintage style is a great alternative.
The tailored structure of this blazer imbues the vintage Androgynous trend which prevailed in the sixties and seventies. I adore the androgynous look and emphasised the trend by teaming this blazer which a strong collar, while also embracing the SS'13 monochrome trend.
My mother's wardrobe has always been full of adorations. I'm always lusting after her Mulberry and Chloe bags or designer coats, but I love how this blazer is vintage and has transcended from her generation to mine. What I love about my mothers style is that it is reminiscent of classic ladylike elegance, she dresses for everyday practicality yet she will always impress in her Sunday best.
I also featured in Galway now magazine last month and you can view that feature
here
along with a couple of other online features.