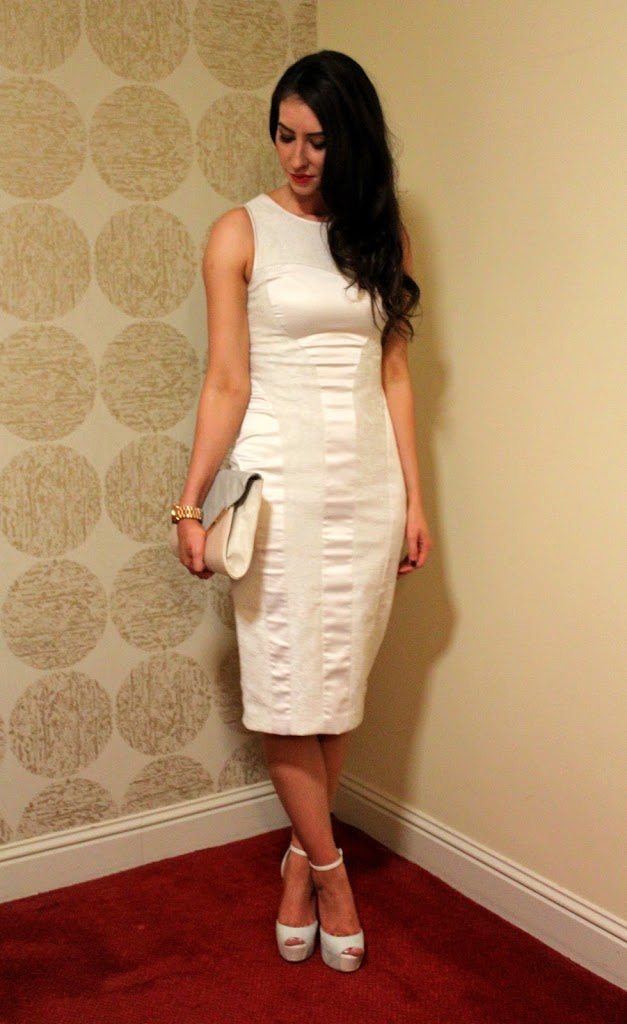 So last week I posted a wedding guest outfit (see
HERE

)
, and this is the outfit I wore to the wedding after party the following evening. As it was a wedding after party and we were all going out for a lovely meal, I wanted something quite elegant yet fun, and what better for such an evening than a fitted midi dress. I love the shape of this dress, it's very classic. I adore this length and have been wearing this style quite a bit lately. I love the lace and satin pannelling in the dress, and the short slit in the back, which is essential for walking in the dress but also adds a nice touch.
I love these shoes I purchased last summer while shopping with my sister, I wasn't going to buy only for she encouraged me too and I am so happy I did. I love the curved heel and the colour. I think very high, ankle strapped peep toe heels are the most flattering to wear, and the platform and ankle strap give quite a bit of comfort. I kept accessories to a minimum and instead opted for a strong red lip and a pastel shaded three toned clutch to keep with the white and pastel palette of the dress and shoes.
Enjoy your weekend readers..