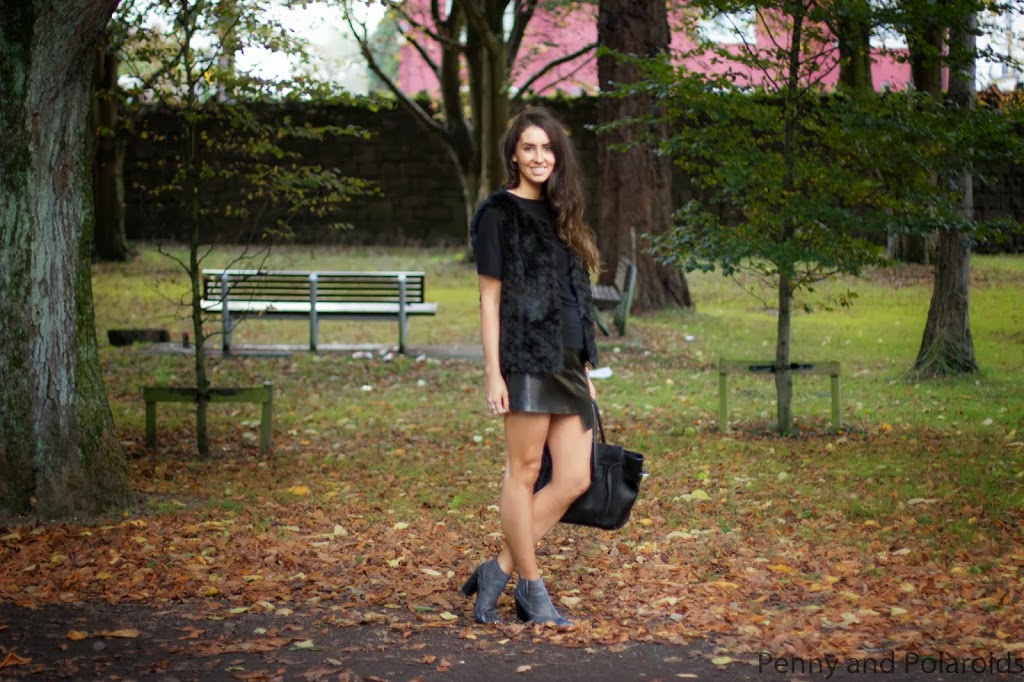 Bag, eBay // Top, River Island (Similar
here
)
I am so excited about this post as it's my first outfit post featuring my new Senso boots which I adore! If you follow me on Facebook you'll have seen that I purchased them a few weeks ago from Senso's website. Senso is an Australian designer brand which have become hugely popular, especially amongst top bloggers and celebrities. I adore the collection and when I first saw these 'Lucky' boots I had to have them. I have had a few queries regarding customs charges since I posted them on Facebook/Instagram; I did get charged customs on them, which was very annoying, but luckily for you all Asos have sinced stocked them and they are available to buy here. I have a penchant for western style ankle boots and I know I'll wear them loads. Aside from their aesthetic function, they're so comfortable.. they're all-round winners!


This faux fur gillet is another recent favourite of mine from Dorothy Perkins. I love fur gillets; they're so stylish and cosy in winter months and perfect for layering, which I love. When it comes to faux fur (I'd never wear real fur) good quality is essential so it really is worth investing. I only really like long-line fur gillets and I ordered this one in a slightly bigger size so it was quite loose. I loved the style as soon as I put it on. It's the perfect style and great quality. This is another item I will definitely get great wear out of this winter. Purchase yours
here
.
Be sure to follow me on
Facebook
and
Instagram
to keep up with my day to day outfits and inspirations!
Until next time,
nuala
..X