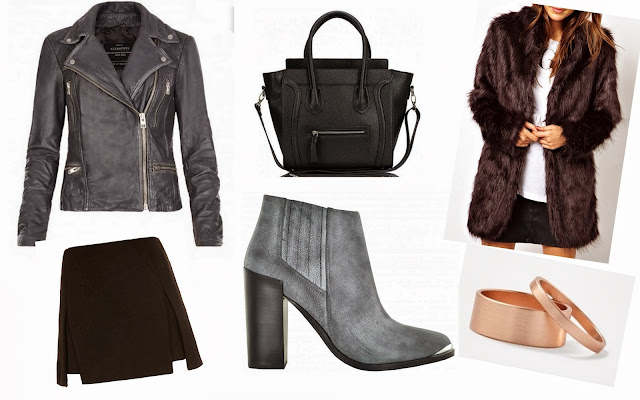 Shop the Look
When I was writing the title for this post I realised I already had a post entitled October Wishlist which means it has been a year since my first monthly wishlist post. I can't believe how fast time is going. I am working on putting together a Shop My Wishlist archive feature where you can view and shop what I have been lusting after and updating it regularly with new season alternatives.
Grey and black seems to prevail in this months wishlist. I always say that greys and blacks, when worn well and are of good quality, make for the most stylish outfits. Black and grey are chic and sophisticated, they are effortless yet stylish. A leather jacket is a must have for anyones wardrobe, and great quality is essential. An All Saints leather jacket has been on my wishlist for years, if you try one on you'll know what I mean, they are beautiful. A fur coat is also an A/W must-have, I have a light brown one which was a gift from my sisters a few years ago which I love but I would love a darker shade. This one from Asos also comes in a sand shade which is gorgeous (view it
here
).
If you follow my Facebook and Instagram you may have seen a sneak preview of a Senso box, well here they are, my latest treat to myself. I got some really great news last week of a very exciting new job so as a treat I purchased these ankle boots from Senso for myself. I absolutely adore them. Senso has become a very popular designer brand in the last year and they are especially loved by bloggers. I chose the Lucky style, they are high stock heel ankle boots in grey waxed leather and even have metal detail on the toe, they are perfect for me! I am so excited to wear them and love that I finally have a pair of Senso boots.
A few weeks ago in while browsing in my favourite store, Brown Thomas (a luxury brand department store in Ireland), I came across these brushed metal rings by Cos. I had to rush off at the time and never got the chance to go back in for them but hopefully they're still there. Cos is one of my favourite brand at the moment. I am also lusting after this cute origami skirt from Topshop, as many of you will know I love anything in crepe material and with an asymmetrical cut. This would be perfect with tights and ankle boots for a casual look this A/W.
I am going to Dublin today for a weekend away with all my closest friends but be sure to follow me on
Instagram
and
Facebook
for updates. I hope you all have a great weekend.
Until next time,
nuala
..X