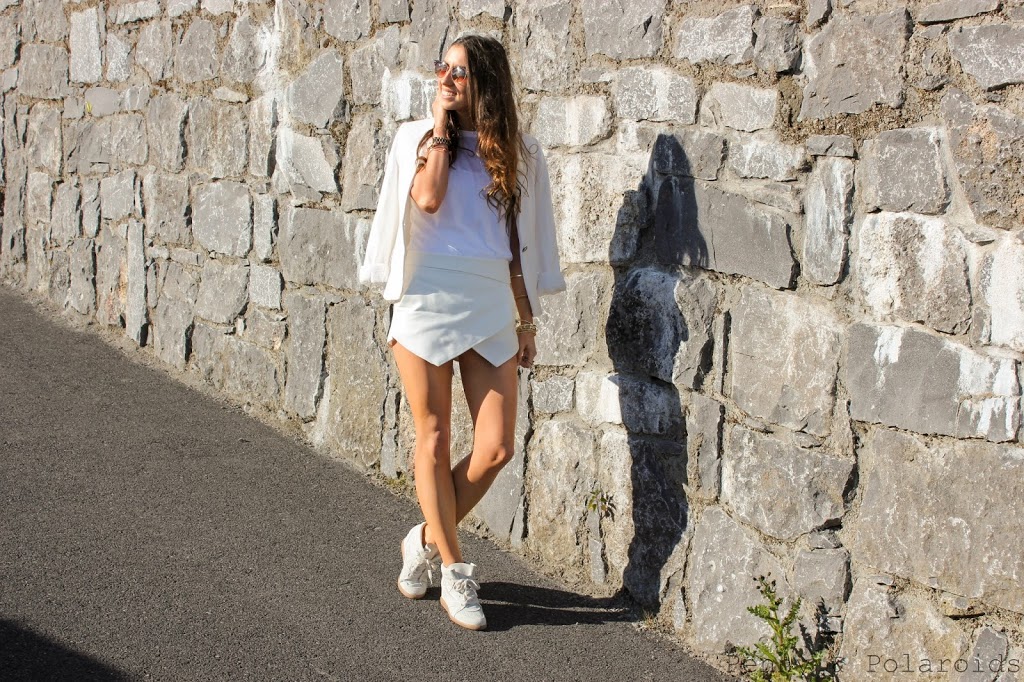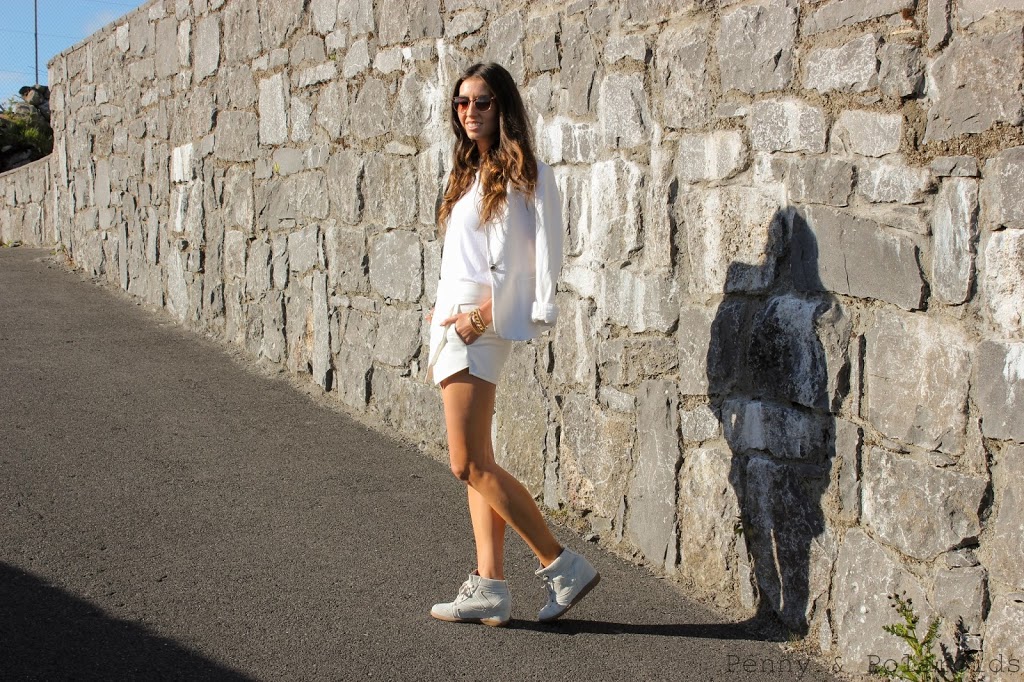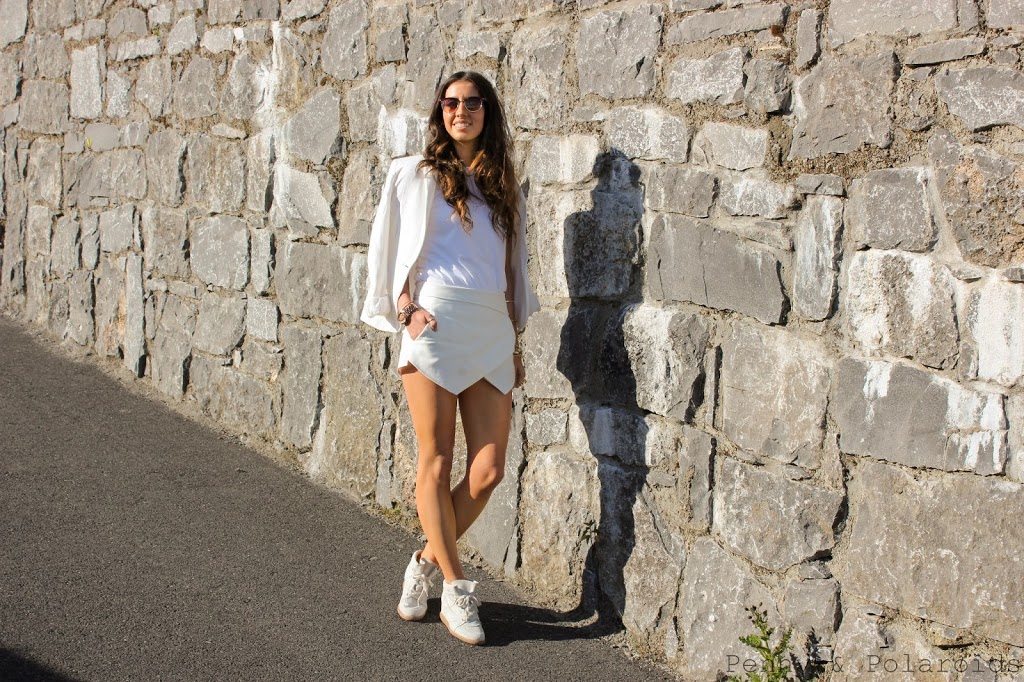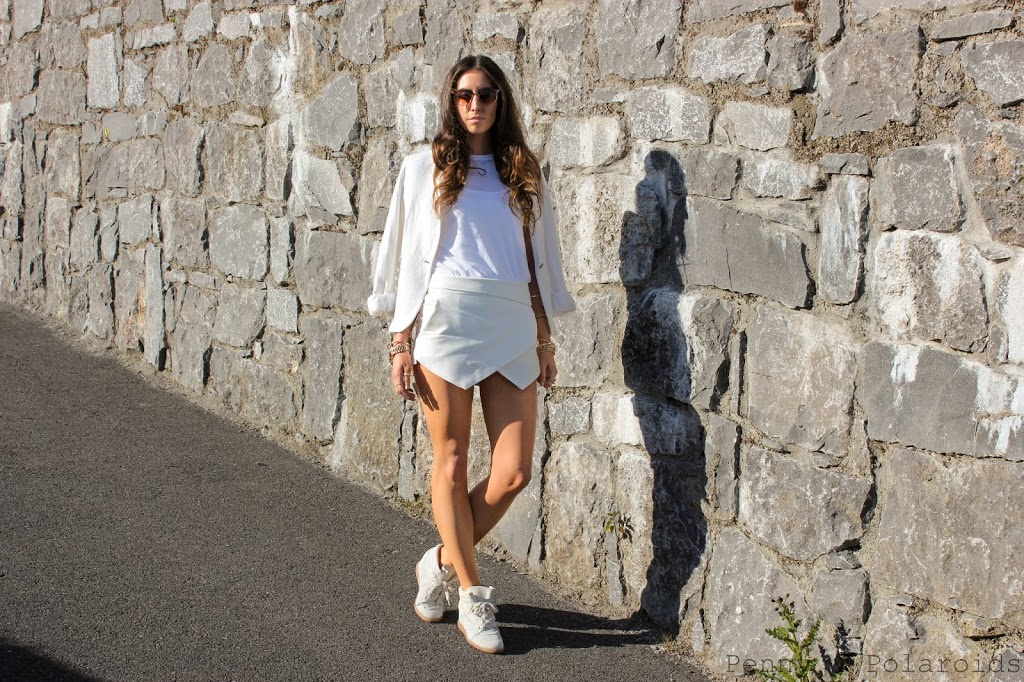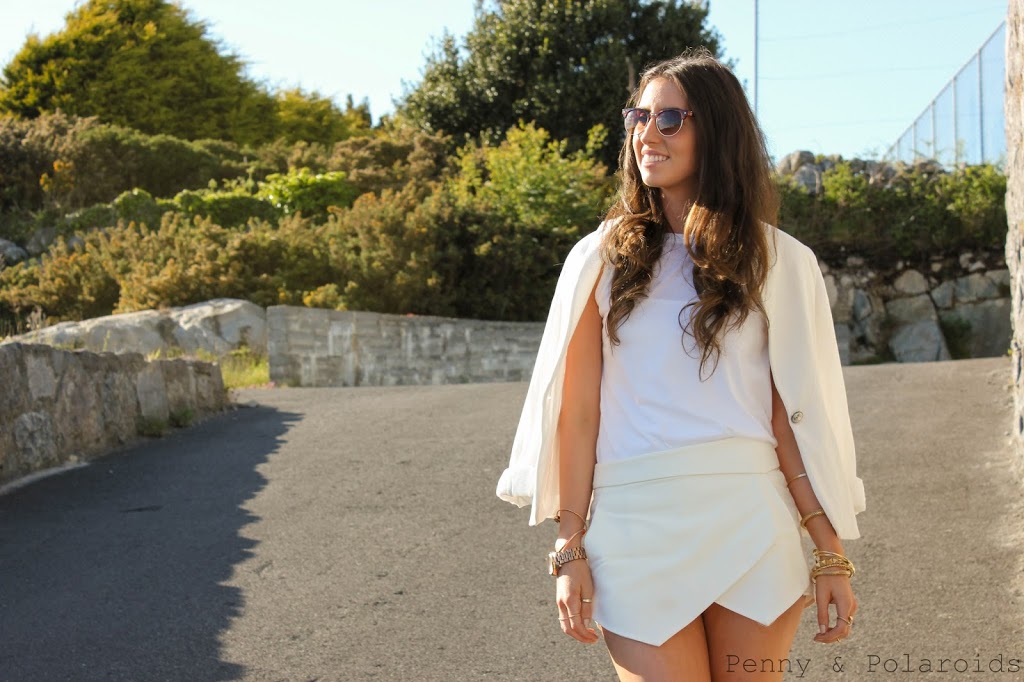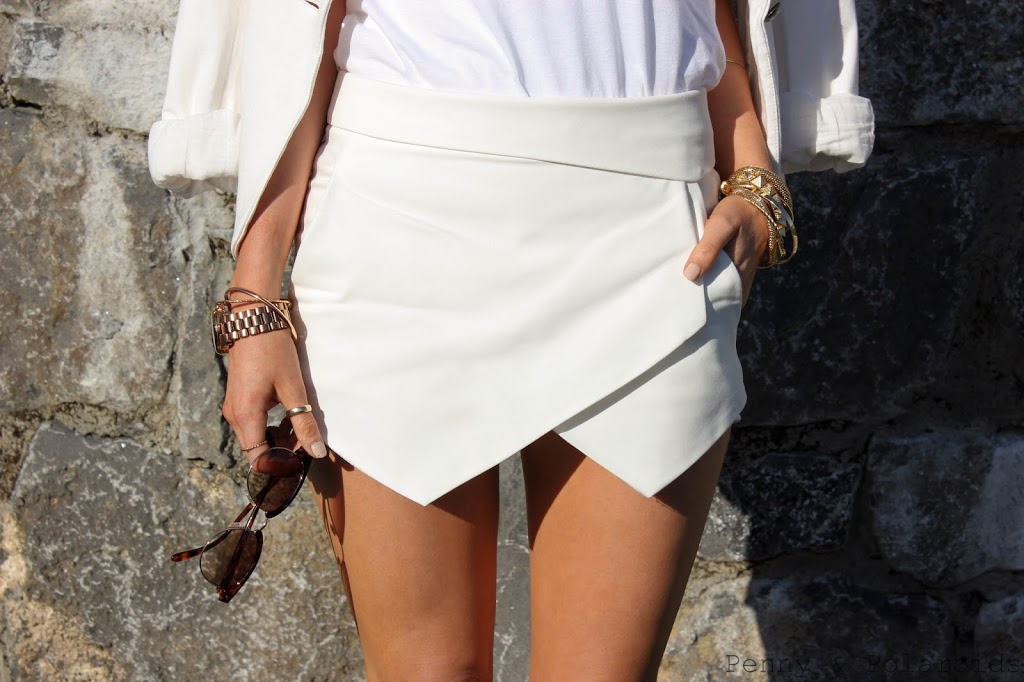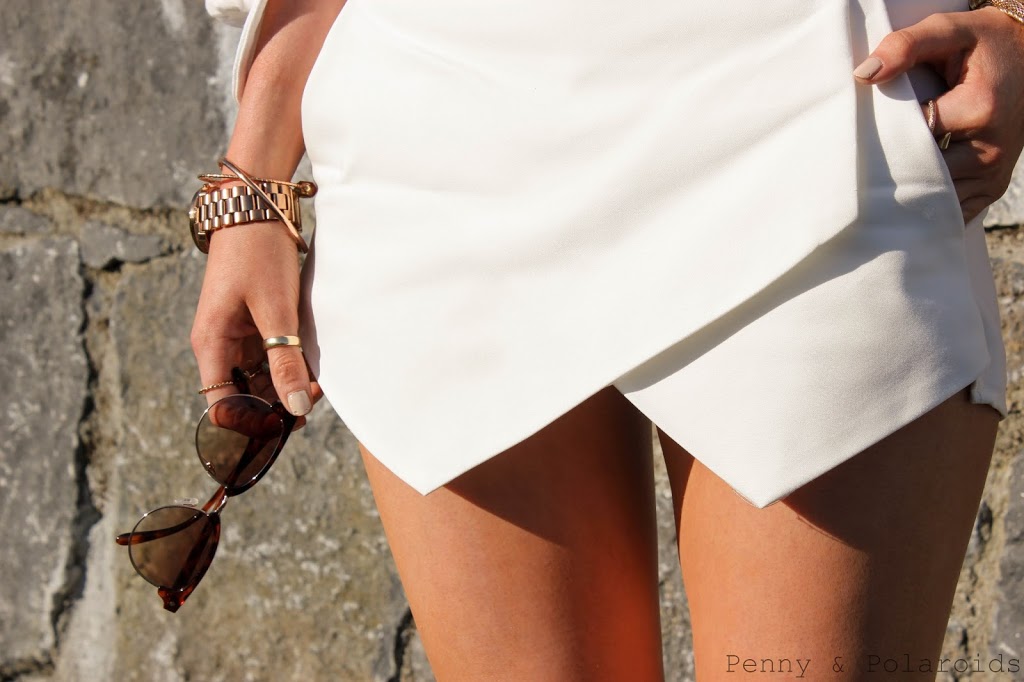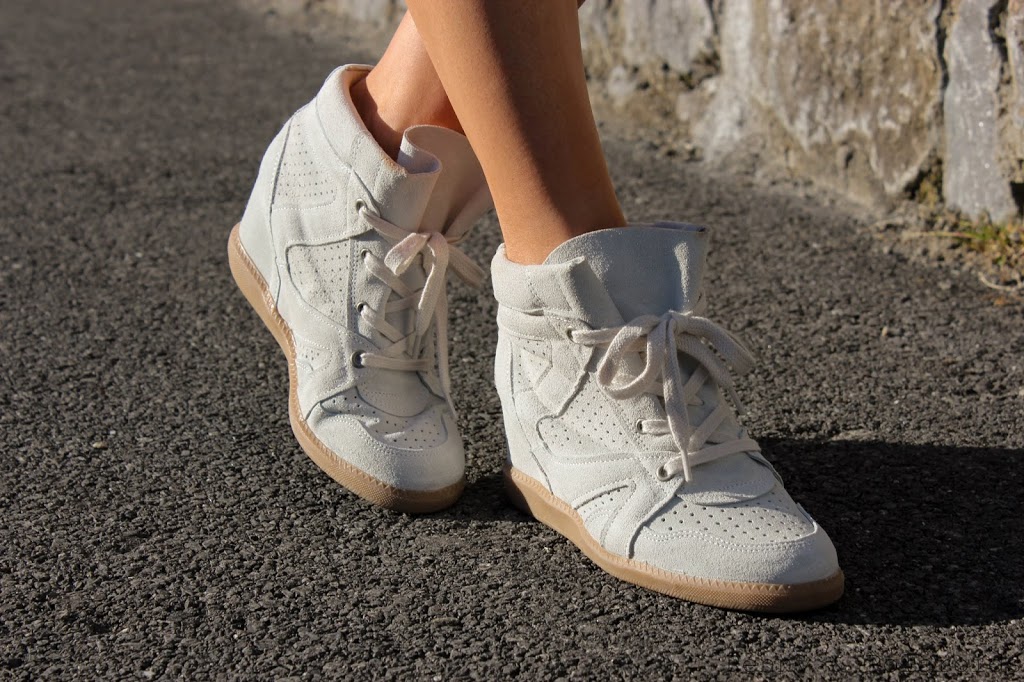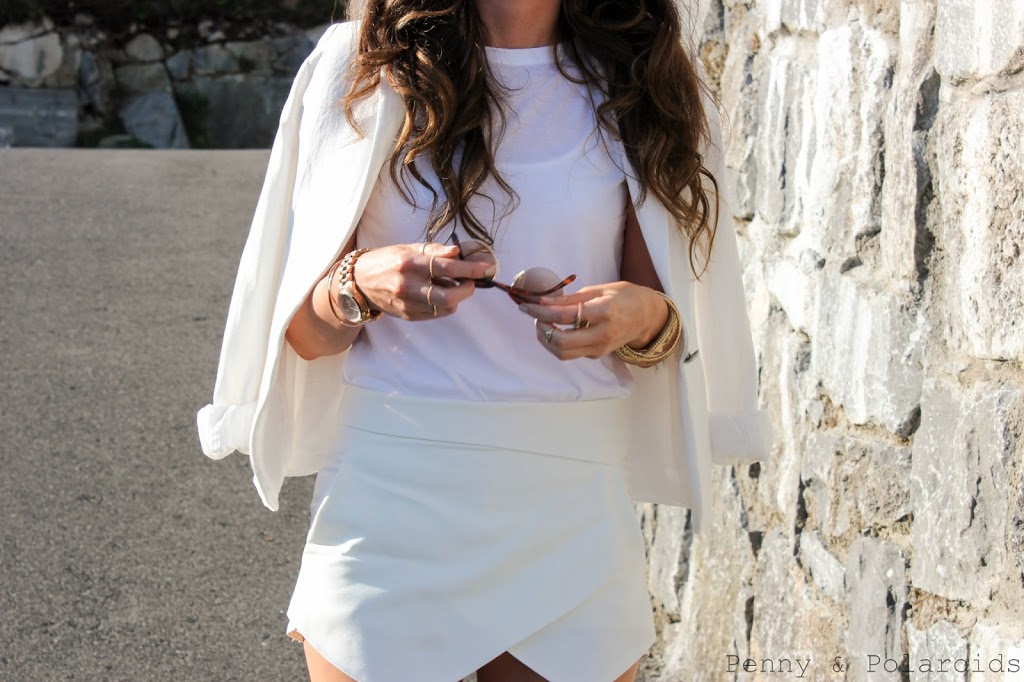 Blazer & Skort, Zara // Tshirt, Rihanna for River Island // Sunglasses Rings & Trainers, Topshop
// Watch,
Michael
Kors // Bangles, Ebay/H&M/Topshop Mixed // Beige Nail
Paint by Barry M
I am loving the sports luxe trend this season and here is my understated take on it which I wore last week. Although the pieces aren't key pieces from the trend, these trainers from Topshop transform the look. They're my newest adored purchase, I was so excited to find them on Topshop. As you may know, if you are a regular reader of my blog, I adore Isabel Marant and especially love her sneakers. These trainers are very like her Baya style ones which are the newer high top style. I loved the older style which were the precursor of the hugely successful high top style on the high street, but I prefer this more slouchy and relaxed style. The ones I'm wearing are so similar to the Baya style (view them
here
).
This Zara skort (or Culottes) is yet another hugely successful style. I had them on my
May Wishlist
and was so excited to get them but they were sold out online at the time. As I have said previously, I try and stay away from pieces which everyone else is wearing and this skort is certainly one of them, it is hugely popular amongst bloggers and on Instagram. However I had been lusting after these for quite awhile and had to have them. I love wearing shorts (as aforementioned in my
June Wishlist)
and this style is so flattering and makes short shorts look that bit more elegant. Well as elegant as little white shorts can be I guess! They also come in black and red, find them here.
This white tank top is by Rihanna for River Island, a collection, I'll admit, I was quite disappointed with,
but this is a great basic. I can never have too many high neck white tshirts and tank tops. I have this blazer since last year, I actually featured it in my very first outfit post (see it
here).
A white or cream blazer is a wardrobe staple. I adore the caped look and as it was a hot yet breezy day, a caped blazer was perfect to compliment the outfit.
I always try to style pieces that are very popular, like this skort, it a little bit differently which is why I wore it for a daytime, relaxed, sports luxe look. An entirely white and cream outfit is of course a bit of a risk but I really liked the look of this outfit, especially in the sunshine. And I think the crispness of the white, along with the caped blazer, gives it a very luxe look.