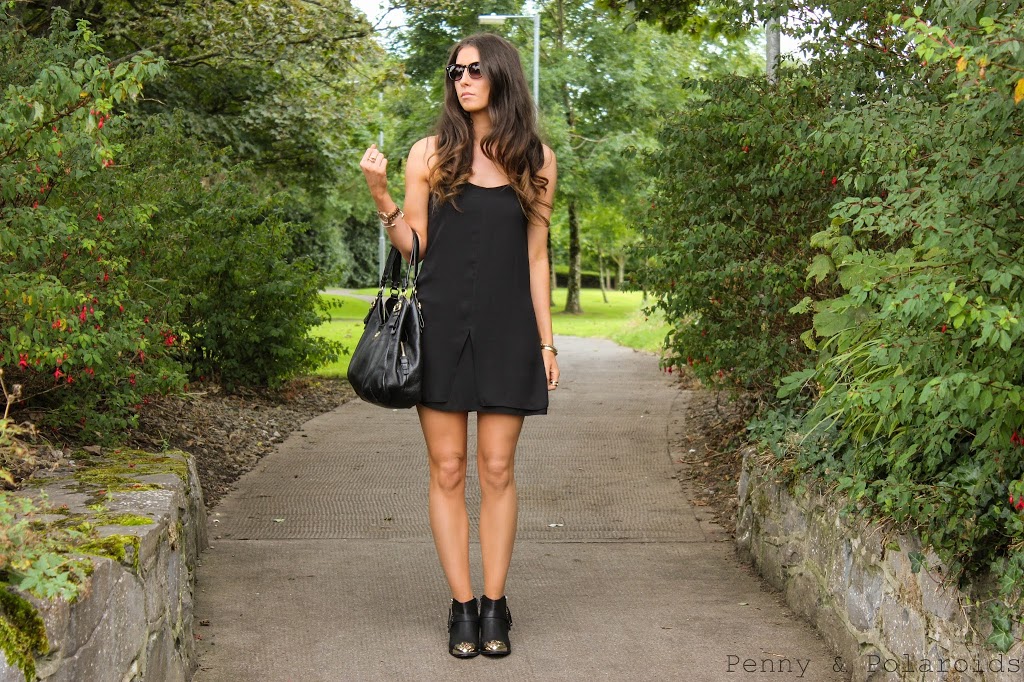 Dress (here) & Sunglasses, Topshop // Boots, Penneys/Primark // Bag,
Coach // Watch, Michael Kors // Spike Bracelet, H&M
A black outfit has the potential to be very chic and stylish. But, akin to all outfits, it must be well styled; there is a fine like between chic and Wednesday Adams from the Adams Family! Here is an outfit I wore for a Sunday lunch in Galway last weekend, it's a classic example of turning your night out LBD into a classic day time look. I actually swapped the boots for nude heels and wore the same dress to a party that same night. An LBD (Little Black Dress) is a wardrobe staple and I just adore this one from Topshop which I purchased back in July. Since the release of this black one they have introduced a variety of colours and I have since bought a red one. As you may already know, I am so fussy when it comes to fabrics and crepe is my current obsession. This dress is made from gorgeous crepe fabric and it sits beautifully creating the perfect, flattering silhouette.
Wearing bare legs and ankle boots is a staple outfit of mine and I absolutely adore western ankle boots. You may remember these boots from when I attended Penneys (Primark) Press Day or from a previous outfit post where I wore a burgundy version. I received the burgundy version as a gift from Penneys press team prior to their release and I stalked Penneys until the release of the black pair, I had to have them! I wore for them first time with this outfit and have worn them all week since, with black or grey skinny jeans. They are my A/W'13 staple boots.
I love black slouchy handbags but I find when it comes to black bags you really do need to invest, as otherwise they look very cheap and plastic-like. This Coach bag is a perfect day-time style, black with gold detailing, slouchy shape and a generous size. It actually belongs to my Mom but luckily for me she lets me borrow it. It's very similar to a Michael Kors style which is out at the moment. Coach is such an amazing brand and they really are worth the investment.
Be sure to make the most of your Saturday night dresses by teaming them with tights, boots and gillets for day time looks this AW season.
Until next time,
nuala
..X