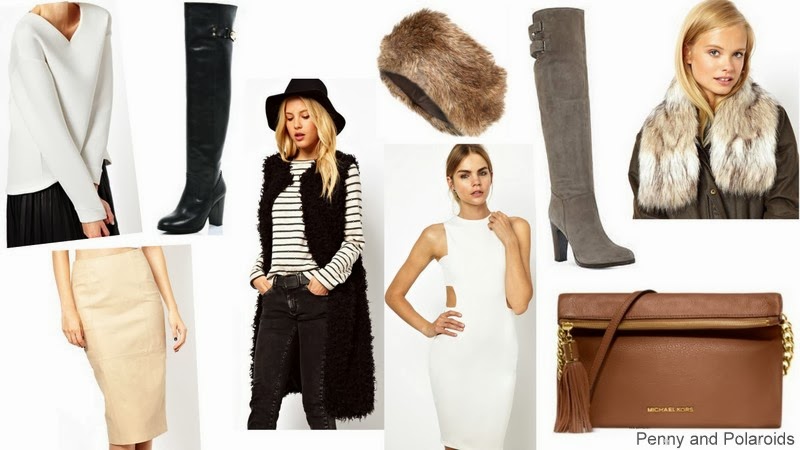 Click on the images below to Shop My Style
My monthly wishlist is very full this month! There are so many amazing pieces I am lusting after at the moment, and as my wishlist is later in the month than usual I have accumulated so many wishes!
I have previously published a post on the over the knee boots trend (view it 
here
), I have also purchased a pair which you may have seen on my Facebook page, but I adore these block heel boots above. I spotted the grey pair a few weeks ago and was so disappointed to find they had sold out. They are the perfect pair I was looking for, grey suede, block heel and high leg with straps to the back. Even though they're sold out I can still wish for them so they had to be included!
Faux fur accessories are my winter staple and even though I have so many pieces I still want more. Asos has the best selection. I also really love fur headbands, I have a cream one for the past few years which you'll see in my latest style post (
here
). I treated myself to a brown one earlier this week.
There are so many pieces from Asos I'm lusting after at the moment. I love leather pencil skirts and absolutely adore this nude style from Asos, it's a SS'14 must! I also really love this black long gilet, I love gilets and wear them quite a lot. I am really lusting after so many dresses from Solace London on Asos lately, I love the structure of the pieces and they're all crisp white or black. They're simple and structured which is what I love. I am also lusting after this structured, bonded fabric sweatshirt.
Last but not least, Michael Kors is a Christmas Wishlist favourite and of course had to be included. I love the style and colour of this clutch.